SPI employee wins Apprentice of the year award
25-June-2019
25-June-2019 13:20
in General
by Admin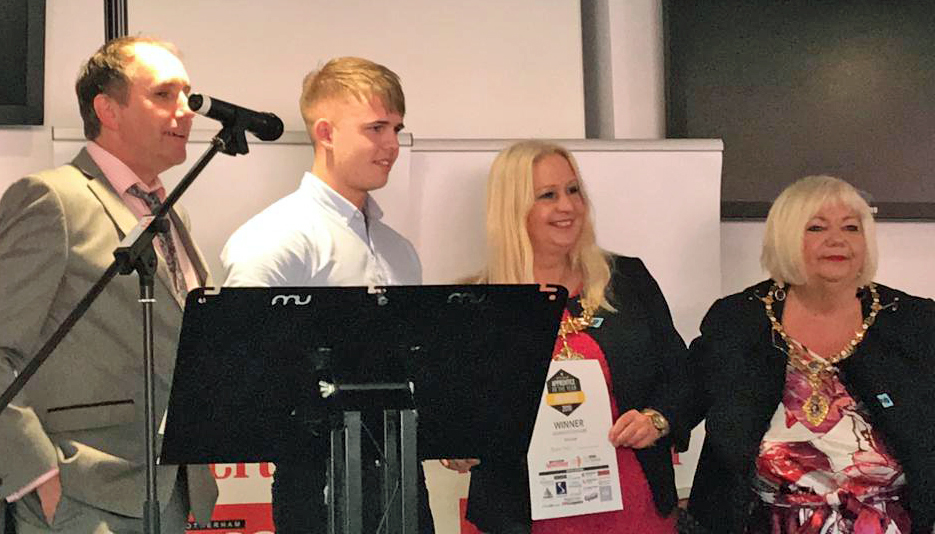 On the 20th June 2019 at the New York football stadium in Rotherham, Tom Roe was announced as the winner of the Rotherham Apprentice of the year – Advanced Category. Tom, Lead engineer at SPI Developments Ltd, outshone in the short list of 6 nominations, to claim his well-deserved prize and title.
SPI's Business Development Manager, Danielle Roxborough, nominated him for his continuous hard work and great attitude, along with his ability to think outside the box and provide creative ideas. Tom was soon notified that he was short listed, but at that stage he had no idea that the amount and quality of entries were higher than ever. A week prior to the awards Tom attended an interview with the judging panel, who later reported that Tom's achievements and attitude amazed them, making him the clear winner from a group of candidates of a very high standard. Tom commented "I can't believe I won. To be honest all the candidates' back stories were amazing, and everybody had their own sense of achievement. It's still hard to digest. I just love my job and working hard "
Tom's first exposure to engineering was at the young age of 15, when he joined SPI Developments Ltd, a fluid control engineering company, for work experience in between finishing his GSCEs and obtaining his results. It was Tom's intention to join the Marines and travel the world, but after receiving his results and working with SPI for 2 months, he questioned this decision. After some time considering his options, he decided to take an apprenticeship with SPI. 4 years later and Tom is now qualified at both level 2 and 3 in Engineering Mechanical Maintenance. More importantly since Joining SPI, Tom has started to travel the world, living out his original aspirations of joining the Marines.
Roxborough commented that "Tom shows natural leadership and all the management team have seen great progress and even more potential in Tom. He takes on board constructive criticism and is very open to opportunities. He has a mature and friendly attitude toward his peers. We are so proud of Tom and continue to encourage his nature abilities."
So, what's next? Tom will start his HDC course in September this year and is taking on the role as Lead Engineer within SPI. He has two major production builds to project manage which will push Tom onto the next level within the company. Tom adds "I can't wait to get stuck in and really looking forward to seeing my hard work, turn into finished machines."